LIBRARY
The Australian School of Abu Dhabi library is a place to explore questions, share ideas, and to research in a safe, creative environment. The School Library provides information and ideas that are fundamental to functioning successfully in today's information and knowledge-based society. The library equips students with life-long learning skills and develops the imagination, enabling them to live as responsible citizens.
The library offers learning services, books and IB resources that enable all members of the School community to become critical thinkers and effective users of information in all formats and media.
The library is integral to the educational process. The following are essential to the development of literacy, information literacy, teaching, learning and culture and are core school library services:
Supporting and enhancing educational goals as outlined in the school's mission and curriculum;
Developing and sustaining in children the habit and enjoyment of reading and learning, and the use of libraries throughout their lives;
Offering opportunities for experiences in creating and using information for knowledge, understanding, imagination and enjoyment;
Supporting all students in learning and practising skills for evaluating and using information, regardless of form, format or medium, including sensitivity to the modes of communication within the community;
Providing access to local, regional, national and global resources and opportunities that expose learners to diverse ideas, experiences and opinions;
Organizing activities that encourage cultural and social awareness and sensitivity.
SWIMMING POOL
Swimming is a genuinely fun exercise which can actually cool the human body instead of heat it, and works almost every muscle of the body.
At the Australian School of Abu Dhabi, we have an indoor, heated 27-metre swimming pool. The pool depth is 250 cm. To complement the main pool, a smaller training pool situated at one end has a depth of 65 cm for use with our youngest students or those students just learning to swim.
At the Australian School of Abu Dhabi, we have an indoor heated 27-metre swimming pool. The pool depth is 250 cm. To complement the main pool, a smaller training pool situated at one end has a depth of 65 cm for use with our youngest students or those students just learning to swim.
CAFETERIA
At the Australian School of Abu Dhabi we encourage all our students to have a healthy diet and to drink plenty of water. The School provides breakfast and lunch for students. This service is an optional alternative to bringing food from home. The student Meal Program is available to all students from Kg1 to Year 12, incurring an annual fee to be paid upon request. Once registered in the School Meal Program, the school cafeteria will prepare healthy nutritious food servings at morning break and lunch times daily. Meals can consist of a variety of foods including pasta, rice, meat dishes, chicken along with fresh fruit and vegetables.
Students in Year 5 and below have their snacks and lunches sent to their classrooms, whilst from Year 6 upwards students eat in the school cafeteria. All children are supervised by class teachers. If you require any special dietary requirements due to food allergies, please let the School know and this will be passed on to the catering staff and the School Nurse.
SOCCER FIELD
At the Australian School of Abu Dhabi, the soccer field is used for practice and competitions, physical education classes and after-school activities. Physical education programs can be life-changing for today's young people and, in many cases, already are. Such programs offer students a well-rounded opportunity to develop their bodies and minds to gain skills that can help propel them to success in both the physical and academic aspects of education – and life.
GYM
The Australian School of Abu Dhabi school offers enriching fitness programs from KG 1 till Year 12 in the comfort of the Indoor fully air-conditioned gym facility.
Primary students are involved in a wide range of activities, games, dance, basic tumbling skills, movement, and physical activity. At senior levels, students, under supervision, use bench press machines and weights. The School provides all instructors, mats and equipment.
Our Gym class gets students physically active and can keep them fit while they are in school-but it can also have longer-lasting effects. Gym class exposes students to healthy activities and sports that they may enjoy for the rest of their lives and provide an environment where students can develop a variety of skills. Gym class gives students an opportunity to develop leadership skills and can influence moral development. Because gym class requires students to work together, it can build social skills and teamwork abilities.
MASJID
The Australian School of Abu Dhabi has a Masjid (prayer room) on level 2, and students can participate in congregational prayer at lunch time.
The Islamic Studies program is available for students in accordance to the UAE Ministry of Education specifications. This program is based on a comprehensive vision of Islam which is a way of life. It aims to enrich and elevate the student with some of the valued understandings, teaching and principles of the glorious Noble Quran and Hadith, as well as teach good moral conduct which is an essential component of Islamic values. It is based on a comprehensive vision of Islam which organizes whole human life.
Aims include:
Developing self-confidence and self-worth in students through social skills training.
Fostering socially acceptable goals, values and attitudes in students.
Learning a variety of ways of dealing with conflict.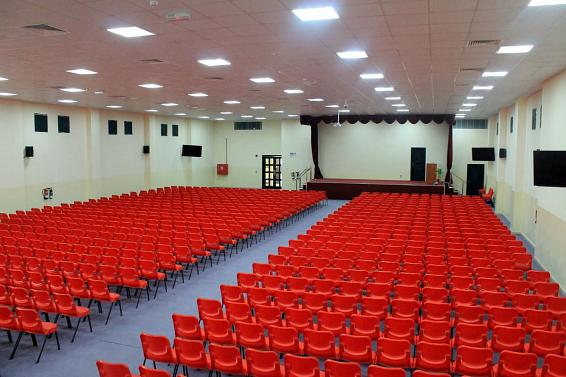 AUDITORIUM
The auditorium is an important part of the School. It is used in promoting the aims of education and many other activities. The auditorium seats 620 people and can support a variety of activities such as assemblies, presentations, large meetings, orchestral and choir productions, theatre productions and conferences. The auditorium has a control room for balancing lights and sound.
TRANSPORT
As part of our comprehensive student support initiatives, the Australian School of Abu Dhabi offers its students a convenient bus services that ensures the needs of all students are met efficiently and effectively through delivering quality transport services both to and from school.
All our buses meet the safety requirements dictated by UAE law. Every day our Drivers and our Assistants collect and drop off students from all over our geographical catchment area. Our primary concern is the safety of each and every student. Our students are expected to follow the bus rules and behave appropriately on the bus at all times.
The cost of transportation is 3850 AED per child for the academic year. Parents can organize and pay for the bus service for their child through the School's Front Office.
DESTINATIONS
| | |
| --- | --- |
| Baniyas | Al Nahda |
| Gabat | Officer City |
| Khalifa City A | Al Falah |
| Khalifa City B (Shakbout City) | Al Bahia |
| Shwamikh | Al Rahba |
| Mohamed Bin Zayed City | Al Shahama |
| Musafah | Al Shamkkah |
| Abu Dhabi | Al Mafraa |
| Between the Bridges area | Mohamed Bin Zayed |
| Al Makta Bridge | Al Reef Village |
| Al Wathba | Yas Island |